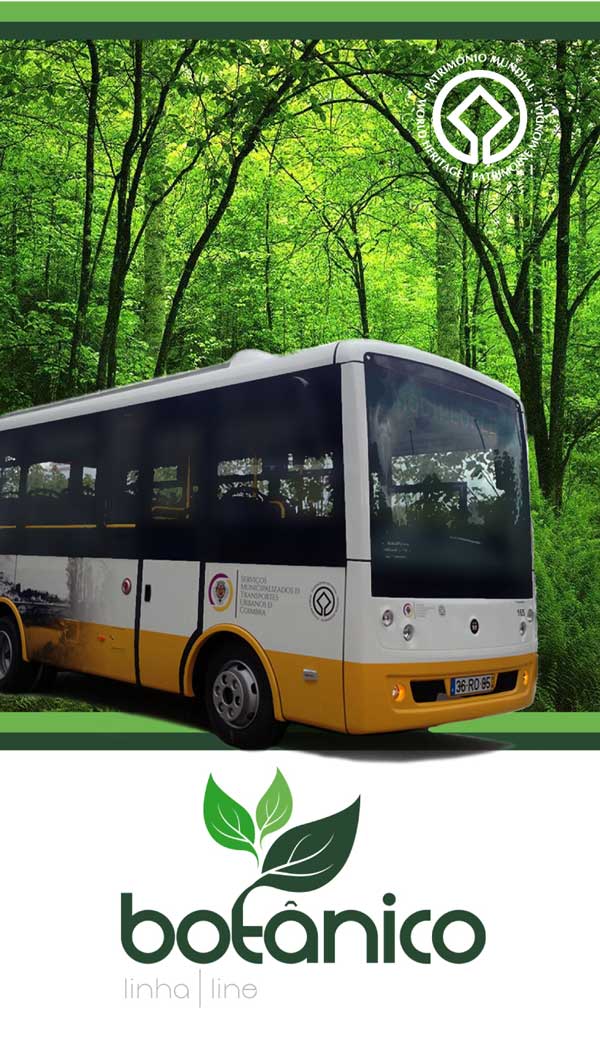 BOTANIC LINE, INTERIOR OF BOTANICAL GARDEN, BY PUBLIC TRANSPORT
With a very strong tourist component, there is a special opportunity to cross the interior of the Botanical Garden, by means of more ecological public transport, linking the riverside area, the Convento de S. Francisco, the Mosteiros de Santa Clara, Portugal dos Pequenitos and the Green Park, to the historical district of the city of Coimbra, with its old and prestigious University.
This link also allows the approach of the Water Museum, installed in the Dr. Manuel Braga Park, to the Botanical Garden - where there is still the first water storage tank to supply the city - opening the doors to all those who want to enjoy an area the theme of the history of water supply to the city as a backdrop.
The Garden, which was created in 1772 under the Pombaline Reform, is a heritage site of the University of Coimbra, recognized as a World Heritage Site by UNESCO. In its interior can be visited the Mata, the cold Greenhouse, the Chapel of São Bento and the Main Garden, among other numerous places of interest.
You can also take advantage of this link for a visit to Coimbra's Upper Town and walk through the narrow and secular streets of the historic city center, enjoy its singular beauty, and simultaneously contemplate the various emblematic buildings and monuments in this area, whose importance is not confined to the national context, but it includes an international dimension, such as the University of Coimbra with its majestic library of the XVIII century, the National Museum of Machado de Castro, the Palace of Sub-Ripas, the Churches of the Sé Nova and Sé Velha , and the Barbican Gate.
On the way back, you can walk down the Quebra-Costas, a long staircase that connects Alta and Baixa de Coimbra, or use the same link and enjoy the views of the city and its river, provided by the route through the Couraça de Lisboa.
In this line is valid the tariff in force in the remaining transport network of SMTUC.
Rossio of Santa Clara > Dr. Manuel Braga Park> Parque Verde / Alegria> Botanical Garden (Mata)> Botanical Garden (Bambuzal)> Botanical Garden (Estufa)> University > Couraça de Lisboa> Alegria / Green Park> Tolls> Rossio of Santa Clara
*Para eventuais alterações nos horários por favor consulte a área de avisos no nosso site aqui.